Earn rewards for your sustainable and active travel
Choose Your Way Warwick is a rewards programme designed to promote sustainable and active travel at the University of Warwick as part of the Future Transport Zone project managed by Transport for West Midlands.
It runs from 22nd March 2021 to 13th March 2022. During that time staff and students from the University of Warwick can download the free BetterPoints app, track their sustainable and active journeys into and around campus, and earn BetterPoints and BetterTickets as a result.
BetterPoints can then be redeemed for a whole host of retail vouchers or donated to charities.
Staff and students must register with their University of Warwick email address to join the programme.
How do I take part?
Click the icons below to download the BetterPoints app.

Watch a short video here to get you started or follow these instructions:
1. Download the BetterPoints app from the App Store or the Google Play Store.
2. Tap "Join Now" in the app, and fill out the registration form. Remember, to take part in this challenge you MUST register with your University of Warwick email address.
3. There will be a welcome message in your timeline in the app inviting you to join the challenges available to you including 'Choose Your Way Warwick'.
4. Complete your baseline survey from the message in your timeline to unlock your activity rewards.
5.Tap the Play ▶ button in the top right corner of the app to track your activities via Automatic (always on) or Manual Tracking (when you want to track a specific activity).
6. Start earning BetterPoints and BetterTickets!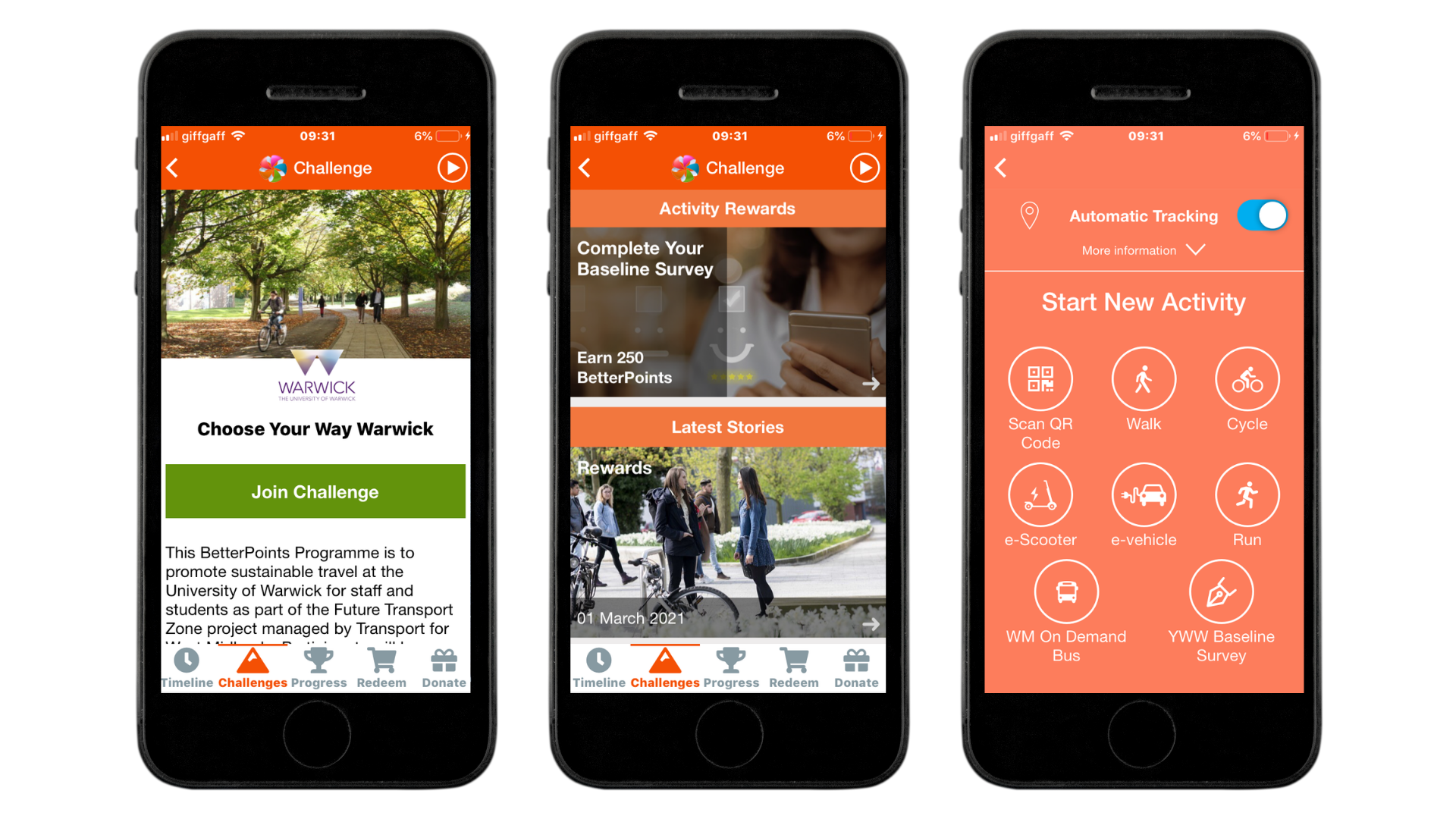 What rewards can I earn?
Shedloads! To find out more about what BetterPoints you can earn for your sustainable and active travel click here.
Why automatic tracking?

Don't worry, BetterPoints aren't snooping on you! Automatic tracking allows us to collect a more comprehensive and accurate data set of your activities. Your data will be aggregated and anonymised across all Choose Your Way Warwick participants to help Transport for West Midlands and the University of Warwick better understand its members' travel needs, habits and CO2 emissions. Better understanding means a better, safer and healthier campus for you to travel around and more tailored rewards for you to enjoy!
How can I redeem or donate my BetterPoints?
BetterPoints are redeemable for great local discounts and high street shopping vouchers. Alternatively, you can donate your points to charity or even use them to support local schools, clubs or community organisations - just let us know who you want to support by contacting customercare@betterpoints.uk or via 'help' in the app menu.
Want to know more about the BetterPoints app and how it works? - Visit our FAQ's page.
Please ensure you are following current Government guidance on exercise, public transport and travel in your area during the Covid-19 pandemic.